SAFETY VEHICLE OPERATION PROCESS
I- Shift handover process, vehicle and driver inspection before operation
1. Driver
- Check the uniform (workwear) of the driver on shift according to regulations.
- Check the driver's health status should shift: Observe mental and physical manifestations. If detecting abnormal health and psychological symptoms or detecting that the driver is using stimulants such as alcohol, beer, stimulants, drugs, etc. during the work shift, a record will be made at the stop just take the shift for that driver and arrange for another driver to take his place.
- Check the driver's personal papers as prescribed, including:
+ Driver's license (FC class), GPRS swipe card, Factory access card (note the time limit on the paper).
+ Professional certificates: Certificate of professional training in fire prevention and fighting; Certificate of professional training in CNCH, Certificate of technical training in safety of transporting dangerous industrial goods; Occupational Safety Card (All documents must be valid)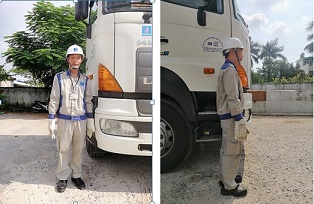 2. Check the vehicle's condition before operating
2.1. Check the vehicle's documents
- Certificate of Car Registration (or Mortgage Certificate certified by the Bank)
- Certificate of registration of semi-trailer (or Mortgage certificate certified by the Bank)
- Vehicle inspection certificate (or registration book), inspection stamp of the car
- Semi-trailer inspection certificate, semi-trailer inspection stamp
- Compulsory car liability insurance (including semi-trailers)
- License to transport substances and goods at risk of fire and explosion (both tractors and semi-trailers)
- Tractor badges (Container trucks)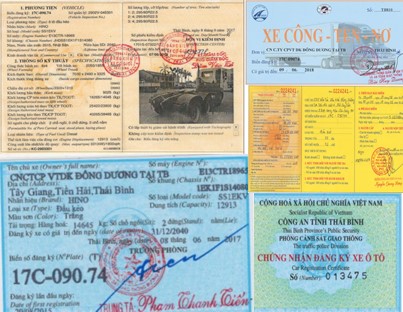 2.2. Check the technical safety status of the vehicle
- Check the lighting system, warning lights, electrical system lights on the dashboard, air conditioning system.
+ When starting the engine, the warning lights must be turned off.
+ If the warning lights are still on, the cause must be assessed, if remedial actions are taken immediately. If the problem cannot be solved, report to the head of the department to direct the solution.
+ The air conditioner vents must work, there is a bit of coolness
- Check the condition of the tire, spare tire: check the type of tire, the wear of the tire (if the tire does not have a tread, check the wear limit, then measure the depth of the tire to determine, the depth is less than 1.5mm. considered worn), check tire pressure (check with hammer)
- Check the condition of mirrors, wipers.
- Check the electric wire, the wire is slightly down to the trailer.